John Deere forest machines provide solutions with unique new technology that improves productivity of harvesting jobs in all forest conditions. John Deere Forestry's recently opened service centre in Perth is the machinery giant's largest UK operation, dedicated to supporting customers in Scotland, comprising a four-bay machine repair shop, a spare parts and accessories store, several offices, a conference room and social facilities for employees.
They are very proud of their brand and corporate colours, so when the time came to upgrade their office furniture, they wanted something a little different that only a specialist manufacturer of office furniture could provide.
In designing this new, upbeat co-working space, John Deere aimed not only to create a functional place for individuals and groups to work and interact, but they wanted to create a space that felt contemporary in design with a dynamic look and feel from one of the world's leading manufacturing businesses.
In doing so, they utilised a range of products from our portfolio including Adapt bench desks with their thoughtful design and versatile components that help you to do more with less, with new return desks that allow for a greater working area and storage solutions to keep the work area uncluttered. Throughout the space you could find storage solutions to keep the work area uncluttered, plus casual meeting and collaboration spaces along with a chic conference room that was surrounded by natural light, truly making the space feel bright all day.
Fun materials combined with bright pops of colour made the space feel lively with specially designed screens and modesty panels featuring the John Deere logo and corporate colours, that were created by us and positioned throughout the space bringing that homely feel along with the exclusive, one-of-a-kind look to the space.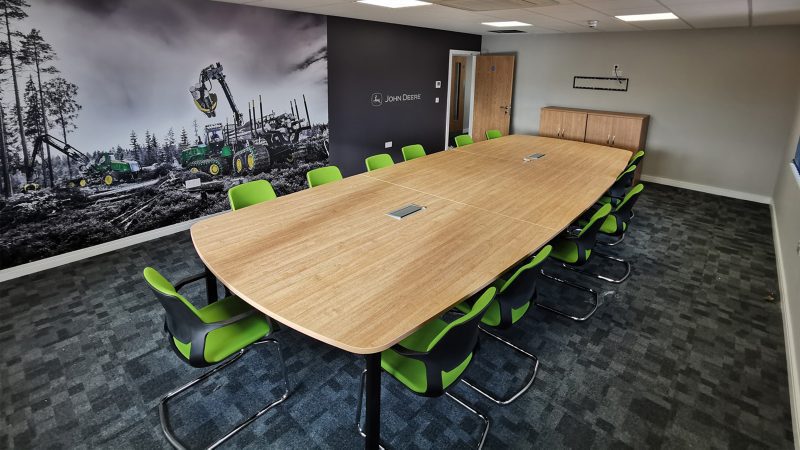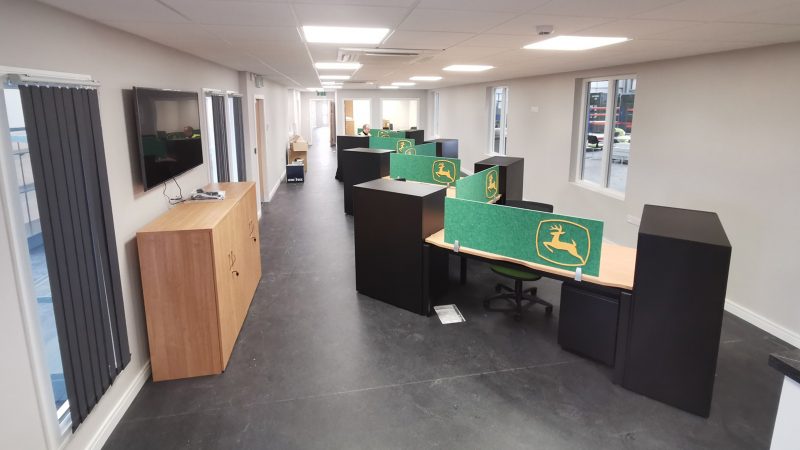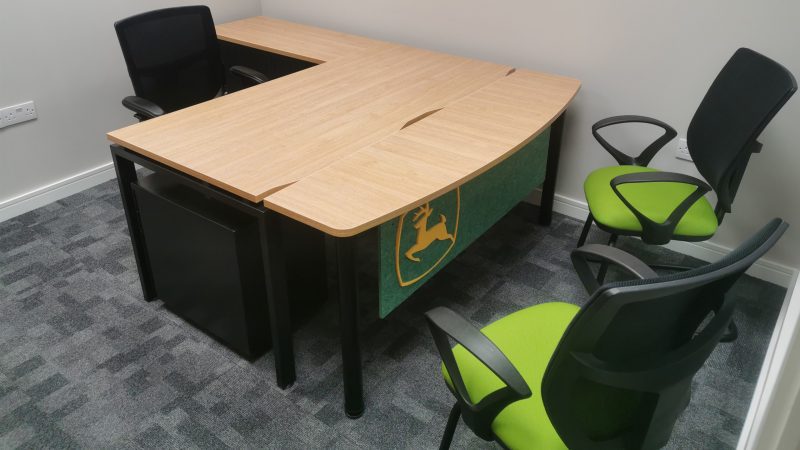 Our fit outs are carefully planned & designed for your team
Step 1: Understanding
We come down to your office to completely understand your business, your values, your staff and your needs to completely understand what you want to achieve from a fit out.
This will entail multiple conversations and meetings, we'll keep going until we get the full picture.
Step 2: Converting
We convert everything we've learned from our conversations and meetings into a bespoke design that represents your business, values and ambitions whilst fitting within your budget, using industry insights, trends and your unique requirements.
Step 3: Managing
We manage every process along the way to ensure you get the best service and result. We'll make sure that you transition smoothly into your new workspace and deal with any issues encountered along the way.
Your office interior is not something you should buy off the peg
RELATED SERVICES
We offer a range of services to make sure that we cover every aspect of businesses, from office supplies to marketing materials. No matter what you're looking for, we will be able to help you find it.