Weatherhead High School Fit Out
Weatherhead High School is a single sex girls' academy school with mixed Sixth Form, located in Merseyside, England in the Metropolitan Borough of Wirral. The school wanted to transform their canteen from an institutional dining room into a fun and enjoyable dining area for their students, whilst retaining an easy to manage and clean space.
Any school canteen area should be a desirable and hygienic place to sit, eat and socialise. We proposed an eclectic mix of dining furniture solutions with our Slab versatile table and bench combination units, complemented with Gecko dining chairs and tables with matching poseur tables and stools to create a colourful, sleek and modern theme. Our in-house space planning team also created designs and floor plans to best suit the needs of the space.
"XLOS delivery and installation team were very helpful and flexible working with the school to achieve the agreed installation deadline in the school holidays."
When the staff returned from the holidays they commented on how well the furniture works within in the new space and how much they loved the new colour scheme. Feedback from the students has also been positive with many commenting how much they now enjoy eating their lunch in their modern, new dining space and spending some quality time socialising with their friends.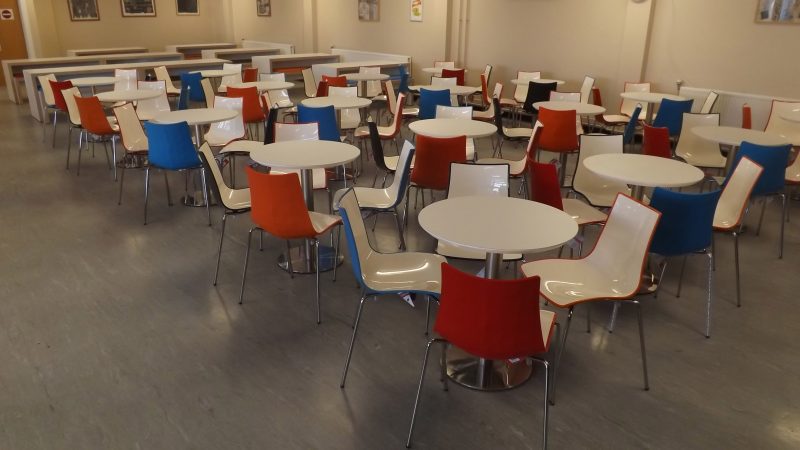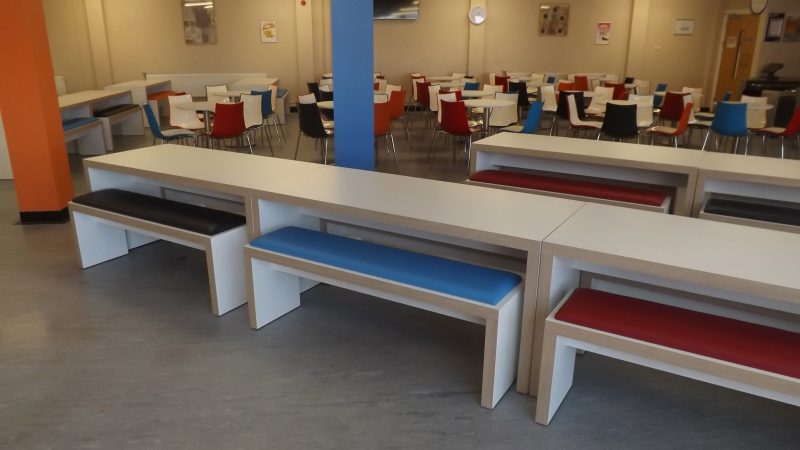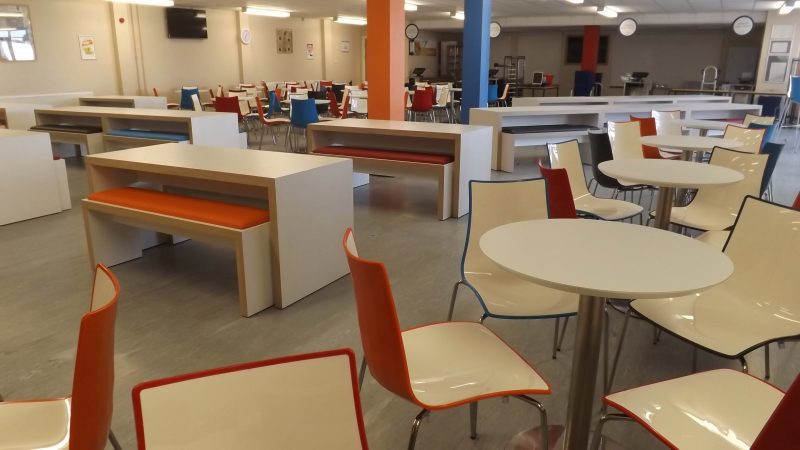 Our fit outs are carefully planned & designed for your team
Step 1: Understanding
We come down to your office to completely understand your business, your values, your staff and your needs to completely understand what you want to achieve from a fit out.
This will entail multiple conversations and meetings, we'll keep going until we get the full picture.
Step 2: Converting
We convert everything we've learned from our conversations and meetings into a bespoke design that represents your business, values and ambitions whilst fitting within your budget, using industry insights, trends and your unique requirements.
Step 3: Managing
We manage every process along the way to ensure you get the best service and result. We'll make sure that you transition smoothly into your new workspace and deal with any issues encountered along the way.
Your office interior is not something you should buy off the peg
We offer a range of services to make sure that we cover every aspect of businesses, from office supplies to marketing materials.
Have a browse through the different services and products we offer. No matter what you're looking for, we will be able to find the solution.